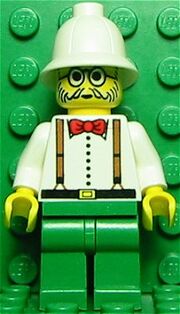 Dr. Charles Kilroy is a British Professor, Adventurer and old friend of Johnny Thunder and Pippin Reed.
Biography
Edit
Kilroy's Promise
Edit
Dr. Kilroy was a friend of Johnny Thunder's father and was a witness when he was killed. Before he died, Kilroy promised that he would look after Johnny and help him in whatever way he could. Dr. Kilroy took Johnny into his care, and quickly began to view him as a son.
Kilroy's first major expedition with Johnny Thunder was in Egypt, where they met Pippin Reed, who quickly decided to accompany them. It was also here that Kilroy first met Johnny's rival, Sam Sinister, who along with his accident-prone henchman Slyboots, attempted to steal several Egyptian artifacts.
Kilroy later took Johnny and Pippin to the Amazon in search of the mysterious Sun-Disk. The group first arrived at a pyramide temple, but they were stopped from entering by the sudden attack of a large spider, which forced them to run. They later tried to reach the sundisk in Harry Cane's Expedition baloon, but had to leave after a mysterious force punctured the zepplin. Later Johnny Thunder would successfully enter the ruins and retrieve the sundisk, only to have the bridge mysteriously destroyed, and in order to escape Johnny had to drop the Sundisk.
Kilroy, Thunder, and Reed, along with their new friend Gabarros would find Senor Palomar attacking a mysterious tribal leader. The group managed to capture Palomar.
They then learned that the tribal leader was in fact Achu, who had been assigned the task of protecting the Sundisk. All along it was Achu who had used his magic to send a large spider after them, snap the bridge, and puncture the zepplin. However eventually they managed to earn Achu's respect and eventually he let them bring the real sundisk to the museum
Dino Island
Edit
Orient Expedition
Edit